Starting a successful website or blog has become pretty easy for small business owners. Nevertheless, many still do not know how to go about it. In this article, I will explain the process of how you can create a blog from scratch and earn money, and also show you the right blogging resources to use, how to brand your blog and how to create your own WordPress blog. Wait! I don't mean a WordPress.com blog, but a WordPress.org.
Whether you need to create a business website, an online store or a personal blog, WordPress.org is the right resource to use. While some bloggers or 'experts' would advise you to create a free blog through blogger.com or WordPress.com, I will advise you to get a paid website dedicated to your name/brand or business.
Before we proceed on how to start a blog from scratch, let's get an insight on what WordPress is and why a blog built by WordPress.org is better off than one built on WordPress.com or blogger.com blog.
WordPress is a content management system (CMS), which allows bloggers to build a website and publish content that they want to share with the world. It affords you with the opportunity to have your own website without any cost. It's an open-source software which is free. You can download it and create your own website without a license.
The benefits:
A website/blog created on WordPress.com would have a URL which is a combination of your brand name and WordPress URL. This isn't good for your brand. Although it has ready to use templates and features you can easily manipulate with your fingers, a WordPress.org version is the best option because it gives you the features to get to the top of your game.
If you are using WordPress.com, they may decide to shut down your space whenever they want, but this can never happen on WordPress.org.
A WordPress.org version has more features to control the interfaces than the WordPress.com. These features are limited on blogspot or WordPress.com.
One benefit of these features is that you can have your own customized name (brand name). It allows you to brand your business. Download the WordPress.org software on your site. In addition, you can customize your blog to fit your unique style with any theme and plugins.
Another beautiful thing about creating a blog with WordPress.org is that you can monetize your content. You can make or earn money as a blogger by using one of the methods I have highlighted at the end of this article . This is not something you can get when you create a blog with a free software.
How to Create a Successful WordPress blog from Scratch and Earn Money
Domain name: The first step in setting up a successful website or blog is to form your domain name. Think of a domain name as a street address. It is that thing that makes you stand out on the Internet. A name with which people can identify and locate you. Domain names are very important when it comes to businesses and brands. Your domain name can be your business name; your company's name or your own name.
Brand name: Remember, it's all about the brand. Branding your domain name with simple words related to your niche is the second step to creating a successful blog– simple words are easily remembered, and you would stand out. Many successful bloggers have gone ahead to brand their names as their domain names. We have bloggers and business owners like Mariah Coz and Neil Patel and so many others whose names have been branded. You can too. However, the goal is to keep it short and simple.
I recommend buying a domain name as the first step in setting your blog because a delay can cause you to lose your preferred choice.
This is what I mean: as you are thinking about a domain name, someone somewhere is also nursing that thought. If that person purchases that name before you, you will lose it to the person. Therefore it is imperative that you act fast; if you have thought of a name, go get it now!
But Domain Names come in Different types:
Top Level Domain: Top Level Domains (TLD) are a vital part of all brand names. We have TLD or web addresses that are represented by country code: .uk for United Kingdom and .ng for Nigeria. The general ones: .com (which was intended for U.S companies but is now being used by many companies across the world), .org (for non-profit organizations.
Also, we have the Exact Match Domain (EMD). These are domain names that represent exactly what you do, what your business is about. For instance, you are into a business of hiring cars and you bought a domain name called 'hirecars.com' or 'carexpert.com', you have bought an EMD. Although EMDs don't rank on Google simply because they have an exact keyword in their domain names, it is something their users will easily remember.
Based on expert advice, I would recommend that you buy a .com domain name than a .ng or .uk because country code domain name limits your audience and the amount of traffic coming to your blog/site. Yes, you would get a lot of traffic from the United Kingdom if you use a .uk domain, however, people outside your region won't be enticed to hover in.
SSL Certificate: SSL stands for Security Socket Layer. It is a protocol that allows traffic between a web server and browsers to be strongly encrypted. This means no one can read what's going on between the visitor and the blog/site. A site that is encrypted will have HTTPS instead of Http. A domain name that begins with Https is more trusted than one without 's'. Take note. Such a blog would be a successful one because visitors would have no problem visiting one.
Hosting: Now that you have thought about a domain name and have eventually bought one, the next step to starting your successful blog is to decide on what hosting company you would launch your website/blog. Carry out a comprehensive research on hosting companies and the kind of services they render to their customers. Choose a host company that can take care of your needs.
A good hosting company should offer 24 hours service to their customers. Also think of the server location. We have the Dedicated web server which is expensive, and a less expensive one- the Shared-web server. No doubt, you would be hosted on a shared-web server which is economical for bloggers and small business owners on a low budget, but patronize a company that delivers top services. Another thing to look at is the plan. Choose a plan that suits you.
I always recommend the basic plan for starters. You can always upgrade as your traffic increases. Your hosting plan comes with an allocated storage space and a monthly bandwidth.
Install the WordPress CMS: Having a hosting plan means you have your server in the cloud whose files can be accessed through the Control panel (C-panel). Your host company would give you a username and password to access the C-panel. When you log into your C-panel, scroll down and search for "SOFTACULOUS APPS INSTALLER" download and install WordPress CMS.
Change your username and password: Once you get access to the C-panel and have downloaded WordPress, change the username and password of both your WordPress and C-panel. Ensure that your password is very strong and that your username is something you can always remember. At no time should you use Admin as your Username as doing so gives hackers easy access to your site.
How to Navigate the WordPress Backend
Get familiar with the Admin panel: Now that you have successfully installed the WordPress CMS, get farmiliar with the admin panel. The Admin panel is like the back end. It is where you do all the work of construction and reconstruction.
On the Admin, you will find your Dashboard where you get updates from WordPress, notifications about outdated plugins and theme, and where you can update plugins and theme. It is basically an overview of your site. All activities on your site can be viewed at a glance from your Dashboard.
As you can see from the picture above, the Dashboard has been marked for easy identity.
Customize your site: After installing the WordPress CMS, the next step is to customize your WordPress blog to suit your taste and brand. You can do that from the Admin Panel under Appearance: Theme 1, customize 2, widgets 3.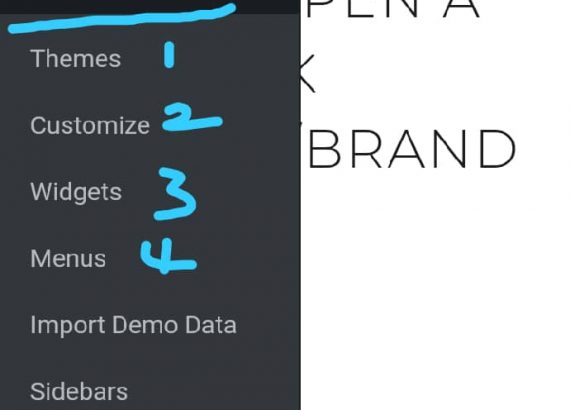 Customizing with themes: A theme represent your blog/site frontend. It makes your WordPress blog beautiful. The theme is the area your users will see, understand and interact with when they visit your blog. It is the user experience and interface-UI/UX.
To make a successful blog, it is advisable to purchase a theme that has an SEO optimization tool. Give your users every reason to remain on your blog and call again. However, the kind of theme you buy depends on your niche. A news blog for example will purchase the 'Newspaper' theme, why a hotel website will purchase the 'Hotelo' theme. Those themes were designed to suit a specific niche. This feature is enabled on your Admin panel which is the control section.
Clueless about how to purchase a theme, visit Theme Forest through your browser to purchase theme.
If your theme didn't come with an SEO tool, download a plugin for that purpose.
For WordPress free themes, go to your Admin panel and click on Appearance, select a theme and apply.
Customizing with plugins: Locate the plugins area on your Admin panel, click on the Plugins menu item 1. Next click on Add New 2 to install plugin. You can always download plugins on your site. Plugins are software that you install on your blog to add extra features and functionalities. Or click on Appearance, search for Install plugins.
We have different plugins for different needs: spam, speed, 'no follow', security, for social icons, etc.
Structure your website: A successful website is a well organized site. It is one which is easy to navigate. A well organized site is one that links posts and pages through the menu bar. The menu bar can be located under Appearance.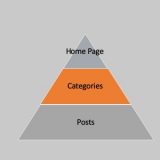 First, there is the homepage which we can find the menu bar. The menu bar leads users to the categories and sub categories (if your site is very big). Next, there are individual pages and posts. Homepage>categories>posts. Some pages are not linked under the categories. The stand alone page: About, contact, privacy policy, etc.
To add a category, login to your blog and go to your Admin panel, next click on the posts menu item. Once you click on it, a drop down menu will surface with a list of items. Click on categories, next click on Add New category to add your category. Categories can have a hierarchy. You might have a news category (parent category) and under that have children categories like latest news, business news, fashion, entertainment, etc.
More Tips on making a Successful Blog:
Always update themes and plugins to enjoy new features. This can be done from your admin panel.
Use an SEO tool to rank for keywords on search engines.
Always backup your post in case of technical issues in the future.
It is advisable to make a backup on your site before updating.
For a successful blog, do not bypass the service of a webmaster. Work with a webmaster as he/she has the technical know how and is more proficient in web design. No doubt you can always work with him by giving a description of how you want your website to look like, something that suit your brand.
Permalink. Having organized your site, change your permalink from default. Your permalink should not be changed when your blog is live. This is the right time. For optimum result, your permalink should have just your URL and the topic.
Amateurs make the mistake of using a default permalink or one that contains so many information like the day and month, year and numeric. This makes ranking for certain keywords almost impossible as it decreases the accessibility of your posts on search engines. I have made up a list of the 22 Blogging Mistakes to avoid when launching your new blog.
To customize your permalink, go to setting on your dashboard. Click on setting and change the format.
Create content
Create pages: You can create pages for your blog/site through your dashboard/admin panel. Sample of pages you can create for your blog are: Homepage, About, Privacy policy, Disclaimer and more. Pages are essential parts of your blog/site.
To create a page, click on the pages menu item in the admin menu. Click the Add New button in the pages screen.
Create your first post: You can create a post from your blog directly from the Header. Click on the Plus sign as shown on the picture above, then click on Add New to add a post.
Or you can create a post from the Admin panel with the text editor. Click on the Posts menu item on the Admin panel, it will take you to a list on items. Click on the Add New button. It will direct you to the text editor which looks like the image below. To begin, add a title in the Add Title field, next type the body of your post. You can save your post as draft, preview before you publish to see how your users will see the post, publish immediately or schedule your post and publish at a later time.
Tips for Creating a Post for a Successful Blog.
Organize your post in an order or unorder list.
Always use subheadings.
Use heading 2 for sub headings.
When you write longer posts, use heading 3 as an additional information under heading 2.
Use more of short, loose sentences and shorter paragraphs as longer ones tend to shy readers away. Do not muddle up your write up.
Italicize and make bold, text you want to lay emphasis on as they tend to arrest the readers attention quickly.
Always link your post to a similar post by using the link icon.
Break large posts with images.
Some themes comes with sample post, you can edit your post into them.
Add tags to posts, they help users and search engines locate posts.
Edit post before publishing as an error filled post creates a wrong impression about you and your brand.
Always include a conclusion. Remember, what is said last is mostly remembered. Sum up your write up at the end.
How to Earn Money from a Blog
Finally, your blog is up and running. You have published a number of posts which has been indexed by search engines and have gained a number of readers or visitors. This is a good time to monetize your content. So, how can you earn money from blogging? I know that's the big question you have been trying to find answers to. There are numerous ways you can earn money from blogging, but I will highlight the 6 DOPE ways you can make money in the succeeding paragraphs.
Give good information.
Become an ad publisher.
Sign up for an affiliate program.
Freelance writing.
Tutor.
Look for advertising opportunities.
Conclusion
Whether you have created a blog to expand your small business by reaching more customers outside your location or you have created a blog as a small business, you can earn money by consistently creating valuable content. If you want to learn more about the ways you can earn money from a blog, you can read this article.