CucinaPro Vs Dash 8″- Which one is the Best Waffle Maker for Individual in 2020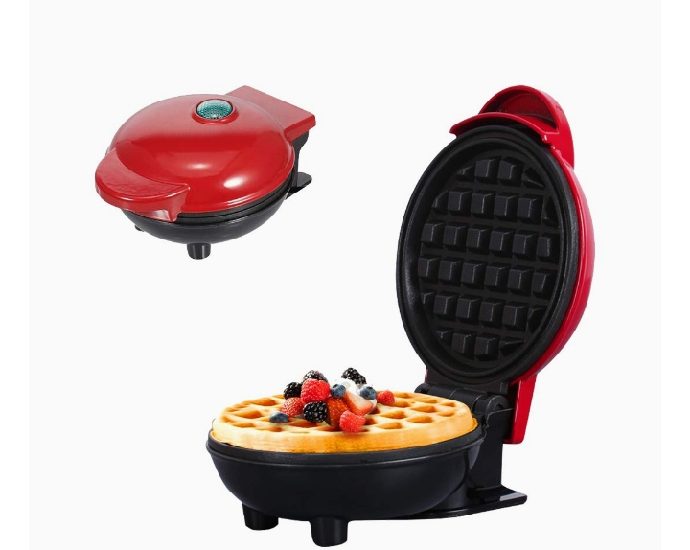 Which waffle maker is the best to buy in 2020- the CucinaPro or the Dash 8"?
For those of us who love eating waffles and find it expensive to buy, especially those of us with large families, the only logical solution is to make them ourselves. If you fall into this category, you are going to need a waffle maker or iron.
Let us not forget those who are allergic to eggs, gluten or milk and still want to eat waffles, you absolutely have to make your own waffles right in your own kitchen. That is the only way to be sure of what you are eating.
There is nothing quite as tasty as the fresh, warm waffles from your own kitchen.
I had to write this review because I got many messages via emails from readers who wanted to know which is the best waffle maker to buy in 2020 after reading my healthy waffle recipe.
We love waffles not just because of their taste, but because of their shapes. The waffle machine gives the waffle a characteristic size, shape and surface impression.
A waffle iron comprises of two metal plates with a connecting hinge, molded to create the honeycomb pattern found on waffles. The modern waffle maker looks like a bread toaster/pie iron or toastie iron; however, the bread toaster is without that appliance's honeycomb pattern.
This is how it looks—
For this review, CucinaPro and Dash 8" Express waffle maker with model number: DEWM8100AQ are my top picks.
CucinaPro Waffle Maker
Is the Cucinapro waffle cone and bowl maker the best waffle maker to buy? This homemade ice cream cone iron machine comes with a Shape Roller and Bowl Press. This is the only bowl maker that includes a bowl press to form your waffle bowls.
This waffle machine measures just about 10.9×5.3×11.4 inches, and weighs about 3.4 pounds, which is not very large.
You can make your homemade ice cream bowls and crispy cones in minutes or choose to make stroop waffles with the waffle cone maker. It also includes a waffle cone roller to form delicious waffle cones. The bowl maker is 100% non-stick which means you can easily clean it up. It is not only easy to clean, but durable and versatile. (Multipurpose.)
I love Cucinapro waffle maker because it comes with waffle recipes. You can always experiment and perfect your waffle making skills with the waffle recipes.
Without further ado, let's move on to the pros and cons of this waffle maker from Cucinapro.
Pros
This particular waffle maker makes about 3-inch bowl size waffle. You can however control the cone size by the amount of batter you use. If you want to make a large cone waffle, you have to use the entire surface of the iron.
It has indicator (red and green) lights. This indicator helps eliminate guess work. Once it turns green, you should remove the waffle.
It works on 110 v power standard and a frequency of 60 Hz.
Versatility. It is versatile. You can use it to make waffles, stroops and crepes. It is also perfect for ice cream Tacos.
It is easy to clean.
Cons
The surface is usually very hot when baking. This means you might get burned when baking.
It does not save power. It consumes about 750 watts of power.
Takes long to get hot despite being a high wattage machine. It takes at least 20 minutes to get to a good working temperature.
No clip. The machine does not have a clip to enable you lock it when you close the lid.
It does not come out evenly brown. If you are buying this machine, expect that some parts of your waffle may come out browner than other parts when baking.
I usually recommend the Cucinapro waffle cone and bowl maker for individuals as the best waffle maker because it is what I call 'All in one'. You don't have to buy a separate recipe book, a cone roller or a bowl press. You get everything when you buy the machine. However, my highest winning waffle maker is the Dash 8″ Express.
The Dash 8″ Express
Dash Express 8" waffle maker machine is suitable for individual and family servings. You can choose to make Paninis, Hash browns or biscuit pizzas as breakfast, lunch, or snacks easily, and in quick time.
This model of waffle maker from Dash measures just about 10.3×8×4.1 inches in size and weighs about 3.94 pounds. It's great if you have kids. Any wet batter is suitable for this machine.
Some of the benefits of having this great waffle maker as one of your home appliances are:
It is compact and portable in size. It takes up minimal counter space and is a must have for smaller kitchens, college dorms, for campers or RV traveling. Its small size takes up little space on the counter, the design is sleek, and the colors are trendy. Oh my! It matches any kitchen decoration.
Quick and easy. Baking waffles with this machine is quick and easy. Simply plug it in and it heats up in minutes unlike the Cucinapro waffle cone and bowl maker which takes longer.
It has a double PFOA-Free non-stick surface. This provides an even cook consistently each time you bake. This isn't something you get when you purchase the Cucinapro.
Another thing that excites me about this awesome machine is that it is backed by 1-year manufacturer warranty.
Oh girl! Something you don't want to miss is the recipe book. If you buy this machine, you will get a free recipe book to explore different types of waffles and an unlimited access to recipe database.
Now the pros and cons of the 8" Express waffle maker.
What I don't like about the 8" Express waffle maker
It is not suitable for pancakes. If you are looking to purchase this item for pancake use, you should consider something else. Except for pancakes, you should get yourself this master piece.
Does not save power. This is something it has in common with the CucinaPro waffle cone and bowl maker. It consumes about 1000 watts and 120 voltage power supply. While the CucinaPro consumes 750 watts and is 110 volts power standard. This isn't a minus for me. Girl, it is a waffle maker and not a TV. I don't get to use it every time.
The griddle part does not come off for easy cleaning.
It has only three colors: Aqua, red and black.
No one/off switch, just indicator light.
Fragile clip. The clip that keeps the waffle maker shut is very fragile and may break. Handle it with care.
Why I love the 8" Express waffle maker
One reason the Dash 8″ Express is the best waffle maker to buy is because of its versatility. It is highly versatile, great for oatmeal waffles, croissant rolls, paninis, hash brown and others on the go.
Another reason it is the best waffle maker is due to its weight. It is super light. It weighs about 3.94 pounds. You can easily lift it up from anywhere.
Again, it saves time. If you are someone like me who is always busy, you should choose this iron. It saves time and reduces stress.
You can make four separate delicious waffles in minutes. If you have kids, you shouldn't think twice before purchasing this machine.
It heats evenly. Unlike the CucinaPro which does not heat evenly, this unique machine heats evenly and quickly, resulting in perfectly cooked waffles.
Compact size. It is relatively small and can be stored easily in your kitchen. It doesn't take space.
Easy to use and clean.
It doesn't get very hot on the surface like the Cucinapro waffle maker which may burn you while baking.
Contains a recipe book.
It has preheating indicator light. This light lets you know when you are ready to bake.
Has a non-slip feet for safety. This non-slip feet keeps your machine stable and safe to use. This is another plus for this machine.
Has a user manual for easy operation.
It has a clip. You can lock the machine while you bake.
Conclusion
I believe you have a winning waffle iron by now. Having carefully considered the pros and cons, you have made your decision on which is the best waffle maker to purchase. Which one will you rather buy? Do you prefer the 5 star Cucinapro waffle cone and bowl maker to the Dash 8″ which ranks on Amazon's best seller list?
If you consider the benefits and advantages of the Dash 8" Express waffle maker with model number DEWM8100AQ, you will definitely see that it outweighs the cons. Click here to make your purchase.
However, the Dash 8″ is not suitable for making cone waffles. So if you want to make some crunchy and crispy cone waffles, go for the Cucinapro waffle cone and bowl maker. You can place your order by following this affiliate link.
And if you want a waffle maker which can crunch out four slices of waffles at once, get yourself this Hamilton Beach 26009 Belgian Style waffle baker which is considerably cheaper to other waffle makers. Like all Hamilton Beach products, the 26009 Belgian Style waffle baker was thoughtfully designed to make your life easier. You can find your nearest store here:
Shop on Amazon: Hamilton Beach
OR…do you want a perfect gift for a dear friend of yours instead? Check out my 19 Gift ideas for a classy girlfriend.