"Daily Harvest takes care of food so food can take care of you."

Daily Harvest
My journey into Daily Harvest began when I was trying to lose weight or let's say not to gain weight.
Trying not to gain weight, I have resorted to eating less junk food. This means that I should consume only healthy food: like I have an alternative to ice-cream. My health consultant advises that I eat more of organic; fruits and veggies.
'They are absolutely healthy,' she says. 'Mix your fruits and vegetables and blend into smoothies. Smoothies made with seeds such as Flax or Chai are also very good due to the great benefits of these seeds.'
Well, that would have been easy for me to do if I could make the time to prepare them. But I hardly have time for grocery shopping or to prepare whole meals which means there is never enough time for smoothies. But, by and by came Daily Harvest.
Now, I can start my day with a dose of nutrient-packed goodness. Obviously, many of these convenience food companies foresaw that many people now have tight schedules and are finding it hard to keep to their meal plans or consume healthy food. No doubt Daily Harvest saw this too and came to our rescue.
What is Daily Harvest?
Daily Harvest is a pre-packaged food company based in Manhattan that delivers/provides healthy frozen meals made with organic fruits and veggies to your door steps.
It was founded by Rachel Drori in 2015 and has been on a mission to make nourishing, plant-based foods available to consumers who find it hard to cook. From what started out delivering ready-to blend smoothies in frozen cups and bowls to their customers, they have expanded. The company has now added a variety of options on their menu: Flatbreads, Soups, lattes, ice-cream and many others which can be eaten as breakfast, lunch, snack, dinner and dessert.
My first order from Daily Harvest wasn't my last. I ordered smoothies. I wanted to try them out and see if they were really as good as advertised. To be honest, I wasn't disappointed at all.
What I don't like about Daily Harvest
You have to supply your own liquids for smoothies and soups.
For soups, you can eat hot by heating up via microwave or stove. Also, you can blend into purees or serve chilled.
Not everyone will be in tune with some of the combinations- I find some weird. But I know vegans will like them so.
They can be expensive to buy. You can't expect less when you are buying farm-fresh pre-packaged fruits and vegetables.
Well, I find a way to go about it. The prices reduce as you buy more. If you buy the weekly 12-cup, you get a discount. It is sold at the rate of $7.49. And for 24-cup boxes of smoothies which is sufficient for a month, you get a dollar off. Instead of $7.99, you get it for $6.99. A dollar less does plenty good you know.
What I like about Daily Harvest:
Minimal or no cooking is required. Just heat up and eat.
There is nothing artificial about their meal kit; No added sugar, fillers, gluten or preservatives. Everything was purely natural.
Variety of ingredients and flavors to choose.
Very convenient to prepare; gets ready in minutes.
Each meal kit is well packaged. Daily Harvest comes in a cardboard box with an insulated cooler bag.
Fresh vegetables and organic grown fruits.
I don't have to wash anything or do the dishes after eating.
How does everything stay fresh if they do not add some kind of preservatives?
Every ingredient is frozen on the farm within twenty-four hours of harvest. Now that we cannot go out as we used to due to the Coronavirus, I have been enjoying a wholesome meal to myself at least 3 times in a week for the past one month. I have added the Chai Bowls and the latest line of flat bread (cauliflower based) to my list.
Because I still love to cook my own homemade dinner or weekend specials (the woman in me, plus cooking can be cheaper), I have tasted only 3 of their meal kits.
Girls, let me work you through these great meal kits.
Smoothies
Smoothies are my regulars. Daily Harvest smoothies are undeniably nourishing and healthy. These smoothie packs come in different flavors like Strawberry and peach, Chocolate and blueberry, Mango and papaya, Acai and cherry. New to this list of smoothies is the Passion fruit and green which I haven't tried as well as Cold Brew and cacao which I recently ordered regrettably. Not everything tastes as it looks.
For these smoothies, I have only tasted 3 flavors. Strawberry+ Peach which is currently sold at $7.99 per pack at the time of writing this review has been my favorite. I love this combination not just because of its delightful taste, but because of the health benefits and the ingredients particularly organic flax seeds. Other ingredients are: organic strawberries, bananas, peaches, raspberries, gluten-free whole grain oats, and goji berries.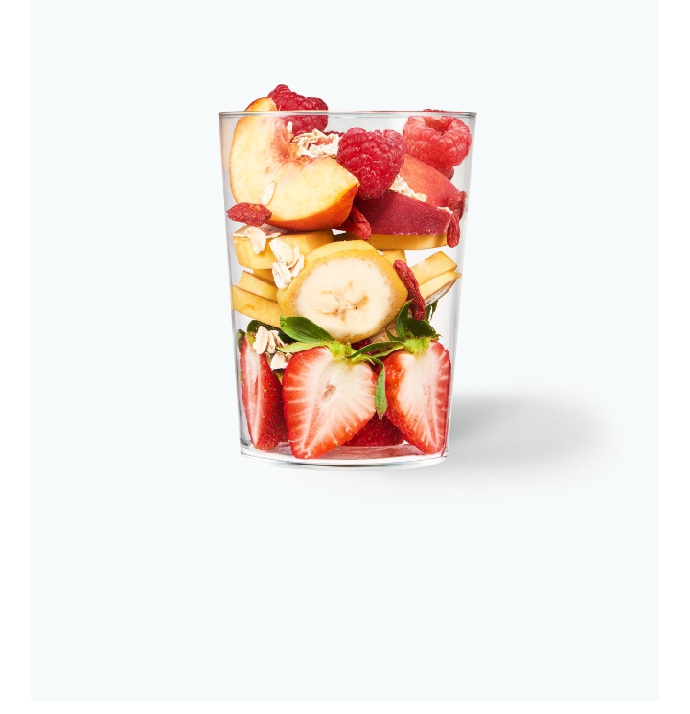 You know something about this immunity booster, strawberry and peach give this blend its classic fruit flavor, while oats and flax seeds provide fiber to keep you full all day. Goji berries also bring a bust to this blend. They contain more iron than spinach and have the highest protein content of any fruit.
Preparation for all Smoothies by Daily Harvest are quite easy.
First, fill your cup with your preferred liquid of choice (I usually use oat milk). Next, pour into a blender and blend. After blending, pour back into your cup and enjoy.
My second favorite is the Tart Cherry+ Raspberry bust. It is sold at the same price as the Strawberry+ Peach smoothie. This flavor act as an anti-inflammatory and immunity boost. The cherry helps to calm your system with it anti-inflammatory properties and helps you sleep. So, days when I am stressed, I just order for it and I feel rejuvenated afterwards. Other ingredients that makeup this 'tangy' smoothie are all organic. From organic cauliflower rice, mission figs, to organic blueberries.
Preparation for this pack of smoothie is easy. Just add any liquid of your choice and blend.
Out of my flair to try new flavors, I decided to try the Cold Brew+ Cacao combination. It is one of their latest lines of smoothies which I don't really like. You see, I like cappuccino flavor in ice-cream. So, when I saw the ingredients for this particular smoothie, I was reminded of cappuccino and wanted to taste it in smoothie; however, I regretted my decision. I think it's a bit too salty and bitter.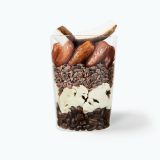 On a second thought, considering the fact that this cold-brewed coffee and magnesium-rich cacao nibs has an ingredient that is believed to reduce stress: ashwaganda root powder, if one can find a way around it, you may become your favorite regular morning smoothie in no time.
The Cold brew+ Cacao is a healthy alternative to coffee due to the vegetables blend, but the high coffee contents (caffeine) makes it unsuitable for children and pregnant women.
Time for Chai Bowls
The Chai Bowls come in three flavors: Vanilla Bean+ Apple, Blackberry+ Majik, and Chocolate+ Almond. Under this section, of the review, I will be focusing on Chocolate+ Almond bowl because this is the first and only chai bowl I have tried. To be honest, I didn't know what to expect when I ordered for this bowl. I wanted a healthy breakfast with chai seeds, and it did not disappoint.
It contains some of the ingredients as the Cold Brew+ Cacao smoothie. Ingredients such as: almond, date, cacao nibs, Himalayan salt and mushroom. Instead of the lion's mane mushroom powder, we have chaga mushroom. And for the fruits, we have bananas, avocado and strawberry puree. It's like having all the world goodness in a bowl and sold for as little as $5 99.
This chai bowl requires you to soak for 6 hours or overnight before consumption. Just add ½ cup of your preferred milk to the bowl and stir, cover and soak for 6 hours in the fridge. When you are ready to eat, bring out, stir and eat.
For best outcome, I recommend adding more than the recommended amount of milk when soaking. Sweetened milk comes in handy if you want it sweeter. I didn't like that the bananas. I think the were excessively soft and pulpy from being frozen. Some fellas might like them, though. But in all, I felt the chocolate flavor was super great.
Daily Harvest flatbread
The food company has about 4 flatbreads on their menu, but the latest lineKabosha+ Sage is just what I wanted.
This perfectly rich line of flatbread is packed with a nourishing cauliflower. You can't stop at one bite. It's like having butternut squash in a bread form.
How to prepare the Daily Harvest flatbread
Place baking sheet on center rack of your oven, pizza stone or toaster oven and preheat to 450°F.
Unwrap and remove Flatbread from base. Place frozen Flatbread on preheated baking sheet and bake for 30 minutes or until edges are a deep golden brown and the crust are crunchy in the middle.
Allow to cool for about 2 minutes if you want and eat warm, or eat right away.
Like pizzas, this herbaceous delight has fabulous toppings. It is topped with spinach, leek, and fennel sprinkled with Parmesanesque crumble made with almonds and spice. The crust blends beautifully with the leek and fennel.
You might have it like that, no extra modification. Or take it to an extra level by adding more toppings. Some slice tomatoes, crushed pepper or pepper flakes, cheese and even salad. Just how you like it.
Daily Harvest pricing
Below is a breakdown of Daily Harvest menu and price list.
Smoothies (any flavor) $7.99 per item.
Harvest Bowls (any flavor) $8.99 per item.
Flatbreads (any flavor) $8.99 per item.
Soups (any flavor) $7.99 per item.
Oat Meal (any flavor) $5.99 per item.
Chai Bowls (any flavor) $5.99 per item.
Scoops (any flavor) $8.99 per pint.
Bites (any flavor) $7.99 per item.
Lattes (any flavor) $7.99 per item.
Buy the weekly and monthly boxes to get some cents off.
Daily Harvest Weekly Boxes
Daily Harvest weekly boxes look exactly like this: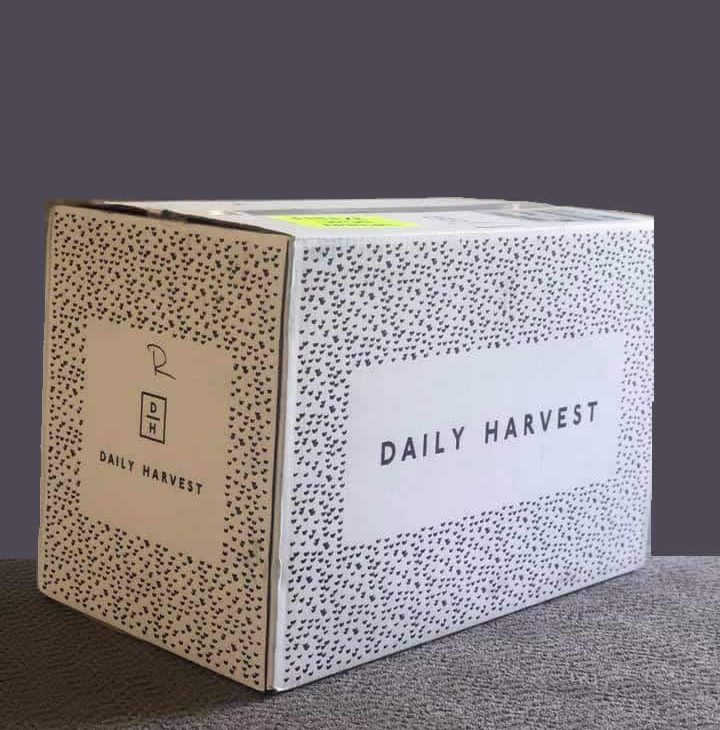 9 cups, $7.75/cup at $69.75/week. 
12 cups, $7.49/cup at $89.88/week.
24 cups, $6.99/cup at $167.76/week.
Daily Harvest Monthly Box
24 cups total, $6.99/cup at $167.76/month. 
Hurry up now and grab all the pack of goodness in one box. You can start with the weekly 9 cup-boxes to see if it's something you will like. And if you feel it's not for you, just cancel with one single click.
You get to save $30-$10 off each of your first 3 boxes using the Hello30 Promo Code.
Conclusion
What I discovered after trying Daily Harvest is that it's not just a vegetarian meal subscription service that delivers frozen meals built on fruits and vegetables. The food company is on a mission to provide Americans who do not love to cook or who simply have no time to with healthy plant-based food by eliminating barriers to access, cost and time.