This article is for anyone, especially a Nigerian, who wants to start an online shoe business. For the avoidance of doubt, this post is not about how to become an affiliate marketer for a shoe brand or an e-commerce site, nor is it recommending dropshipping. It is none of that.
This is 2023 and I am about to introduce you to the new way a lot of people (Nigerians) are selling shoes to customers online daily without owning a physical store and without leaving their homes. Is it magic? No.
An online shoe business is a great way to make money on the side as a student or a stay-at-home mom. If you are also working full-time, it's a great side hustle for you. The best thing about selling shoes is that they're always in demand; they don't go out of style. It is a hot-selling product.
You can start a shoe business online without owning a physical store, without being an affiliate for a brand, and without building an e-commerce store. Or how many of the business owners online do you think have the products they market in their physical stores? Just a few.
So, how do you start a shoe business online in Nigeria without having a physical store, without going into drop shipping and without signing up as an affiliate? The new way to do this is through your social media handles like Instagram or Facebook.
You read correctly. Instagram and Facebook are on another level with this. Selling shoes online (social media) is the fastest and cheapest way of selling shoes. You just need to create a business page on Instagram or Facebook and your online store is ready. Additionally, you can promote your products to boost sales or visibility.
What do you need to start a shoe business online?
You just need a smartphone, a strong internet connection, social media networks, and a supplier.
How to Start a Shoe Business Online in 6 Easy Steps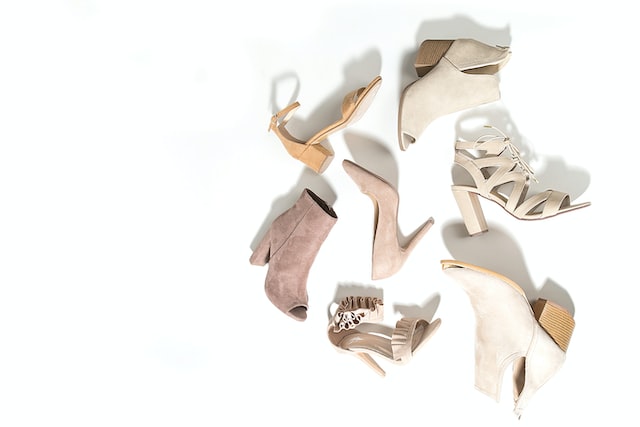 1. Find a Niche
One of the first steps to consider if you want to start a shoe or boutique business online is choosing a niche. There is a wide range of shoes out there; to succeed in this type of business, it is highly recommended that you choose a niche because selling a specific type of shoe is easier because it reduces your competition and your target market. Your niche could be female shoes, male shoes, kiddie shoes or baby shoes.
The Female Shoes
Selling women's shoes is one of the most profitable niches to venture into if you decide to sell female shoes. Women love to keep up with the latest trends; they often buy new shoes just to please themselves or for relaxation of some sort.
Under women's shoes, we have low shoes, heels, boots, flip-flops, wedges and loafers. Some women have big feet and find it difficult to get their exact shoe size. You can decide to sell only big feet so that these women can easily get their size and be happy.
Men Shoes
Men's shoes are not always trending especially when they are not style-conscious. Two pairs of shoes or three are just enough for them.
Men generally will not spend time shopping for shoes; it is not an ideal niche option. However, if you are determined to sell only men's shoes, choose sports shoes as they are worn out faster and then once in a while, you mix them up with affordable shoes.
Kiddies Shoes
Children's footwear is a niche I recommend because it is profitable. Kids grow fast and their legs increase as they grow. As a result, their parents have no option but to replace their shoes from time to time.
If you decide to sell kiddies' shoes online, you may concentrate on newborns (Christening), toddlers or ages 4 and above.
We also have classic shoes, sports shoes, special shoes, handmade shoes and indoor shoes.
Choosing a niche is essential when starting an online shoe business; a niche allows you to focus on growing your business and serving your customers.
2. Open an Instagram Account or Facebook Page
The next step after choosing a niche is opening an Instagram business page if you don't already have one and opening a Facebook business page. I recommend these business pages because with them you can monitor how well your page is growing through the insight feature; you can also run ads to boost your sales if you want to with an Instagram/Facebook business page.
If you don't have a Facebook business page and you are interested in opening one, you can follow these easy steps. And if you want to open an Instagram business page, follow the steps below:
Steps-by-steps Process to Open an Instagram Account
• Download the Instagram app from Google's Play store or Apple store.
• Once installed, tap the Instagram icon to open it.
• Sign up with your email address or phone number if you're on an Android. However, if you are using an iPhone, you should select Create an Account and then enter your phone number. You'll get a text with a verification code to enter.
• You'll then receive a prompt to create a username and password.
Now that you have created a new account, switch to a business account.
And if you are interested in creating a Facebook Business Page from scratch, check here.
3. Create an Attractive Bio
The next step after opening an Instagram account is creating a captivating bio. The bio area is an opportunity to show everyone what your page is about. It is the most important part of your page. It is the first impression a user gets about your page when he lands on your page through say a hashtag, location or otherwise.
Instagram allows business owners to include information like their contact information: email address or phone number. Others include their locations, hashtags or websites, including their interests and hobbies.
I will recommend that you add your location to your bio. You must add a location to your Instagram or Facebook business pages so that customers within your location can easily find you.
4. Contact a Supplier
How will you source your products? You need a supplier for this purpose. With your supplier, you don't need to worry about shipping costs or customs duties. Also, your supplier or suppliers handle the inventory management and storage costs.
In a country like Nigeria, anyone who resides in the western regions can easily get a supplier in Lagos Island. No hassle; visit their stores and discuss your intention, and they will gladly accommodate you. Many of these suppliers are looking for ways to expand their businesses beyond their locations and if you can offer them that, they are in.
Some of these suppliers have existing Whatsapp groups filled with online entrepreneurs. They can add you to their existing groups where they post new arrivals daily or weekly at a competitive price; some prefer to send them to each seller directly. Whichever you prefer, you can discuss this with your supplier.
5. Post your First Product
Post the pictures or videos you receive for a product and write a short caption with it. As a business owner, you don't need many words; however, your product descriptions have to be convincing to your buyers. The product description should include the correct size chart, a description of the footwear parameters and the price indication.
It is vital to include the prices of each product in the caption. Let your followers see the price; let them decide there and then if they can afford the product. Do not post and direct them to your DM. it is bad marketing.
Moreso, you need a high-quality picture or pictures of your products. Upload images of the shoes from different angles. Ensure that your suppliers invest in quality pictures. Pictures are what sell on IG or FB.
Ensure that you use relevant hashtags to gain visibility each time you post. Hashtags have the power to bring people who aren't your followers to your page because they are following the hashtags. Some of the hashtags you can use as an online shoe vendor are: #shoevendorsinlagos #shoes #shoevendorinibadan #womenshoes
6. Delivery and Payment Systems
Delivery and payment systems are also important aspects to look at if you want to give your customers top-notch service. It is advisable to add different payment options when starting your online shoe store.
Types of payment methods
Cash payment
Payment on delivery
Bank transfer
Debit card
On delivery, I will also advise that you add several delivery options as well. You could add bus delivery, or park picks up or you can patronize the service of a logistic company which offers home delivery for customers who may be unable to go to their different pick-up locations. Most buyers like to know where their package is at any given time and only these logistics have this real-time order tracking feature.
Bonus
Be consistent. Consistency is key if you hope to start a shoe business online and succeed. Posting regularly gives your followers the that you can be trusted. You can post every day if you can make the time or post at least three times a week.
As a starter, you can replicate what other online shoe vendors are doing. Copy how they write their content and how they post their content. Remember, no one was born an expert.
In addition, do not post and exit the app for days. These social media pages are your stores. Imagine what happens if you have a physical store you don't open regularly. No one will take you seriously. Make sure you post and log in every time you have free time to attend to customers' queries.
Another thing you can do as an online shoe vendor is to build a rapport with your followers or potential customers. You can build rapport by posting your photos from time to time or creating a highlight that includes your recent photos. You can also ask questions and create content surrounding the benefits or usefulness of certain products you sell. It should not always be about buying this shoe or that dress. Showcase your expertise in these areas. This might mean that you have to do research; the goal is to build trust and make sales, do it.
One more bonus point before you go. Sell on Facebook groups. Facebook group is a great place to make sales. Although many Facebook groups prevent vendors from marketing their products on the groups, you can create content on how to use a particular product or its benefit; why this helps make sales is that most people in the group aren't vendors. They are potential customers. When you create a post that showcases your expertise, they are likely to check your profile. Who knows, they can see something they like on your timeline and buy it. this is why your Facebook bio like your Instagram bio should include everything you are about.
Additionally, you can leverage the Facebook market.it is an online market space where you can make sales.
How to Start a Shoe Business Online: The Take Home
Starting a shoe business online can be exciting and rewarding at the same time; however, it requires careful planning and execution. It is not everyone that starts making sales immediately after they start; for you, it might be different. Whether you start making sales immediately or not, always remember that anytime you make a new post on Instagram or Facebook, people are viewing it.
Popular on this Blog