Today, I tasted the best shawarma in Ibadan.
If you are new in Ibadan and are craving some nice shawarma, there is only one shawarma spot you should visit: FoodCO Grill House, Ring Road. Yelp, you heard me.
The first shawarma spot I visited tasted ordinary. If that was the first time I had shawarma, boy, that would have been my last. I mean, with all the hype on shawarma, it has to be perfect.
I have patronized many shawarma spots: street sellers, small kiosks, and big eateries like Chicken Republic and Wimpy Restaurant in Jericho. However, none gave me that feeling I wanted to satisfy. Either it was too dry, too spicy, had no taste, had too much cabbage, little meat, or the meat is replaced with sausage or onions.
You see, I never really understood the whole hype of shawarma until my roomy took me to a shawarma spot in Owerri. Although the shawarma spot had long closed down, it was the best. That was the first time I tasted shawarma; the taste was out of this world.
So, today, my sister and I decided to visit FoodCO Ring Road. She was a regular and has always spoken well about their shawarma. I wanted to be surprised by the freshness of the ingredients, the range of flavors that come from a few expertly blended spices and the boneless, skinless chicken that has been roasted slowly. I'll have a bite of this 'heaven' as she put it. Let's go, I said. I dressed my baby up, and we left the house for the shawarma spot.
Although FoodCo is known mostly for its convenience store, the director is devoted to bringing the best shawarma to Ibadan. So, what's in it besides the sauce, diced meats and shredded cabbage? Shredded green cabbage, shredded carrot, previously marinated meats (chicken), flavoured sauce (spicy), and two grilled sausages, all served inside a griddled pita bread (flatbread). Mouthwatering, right?
Let me warn you; there is always a long line of people waiting to get served. And that is because FoodCO shawarma is unarguably the best shawarma spot in Ibadan. Thus, we took a seat to wait patiently.
After one hour, when my order was ready, I quickly unwrapped the foil to unveil the wrap of goodness. There it was, tantalizing with rich flavours that seep out of the Ibadan best shawarma like candy falling out of a piñata. The difference can be felt, seen, tasted, and enjoyed. They're deliciously fresh and absolutely addicting.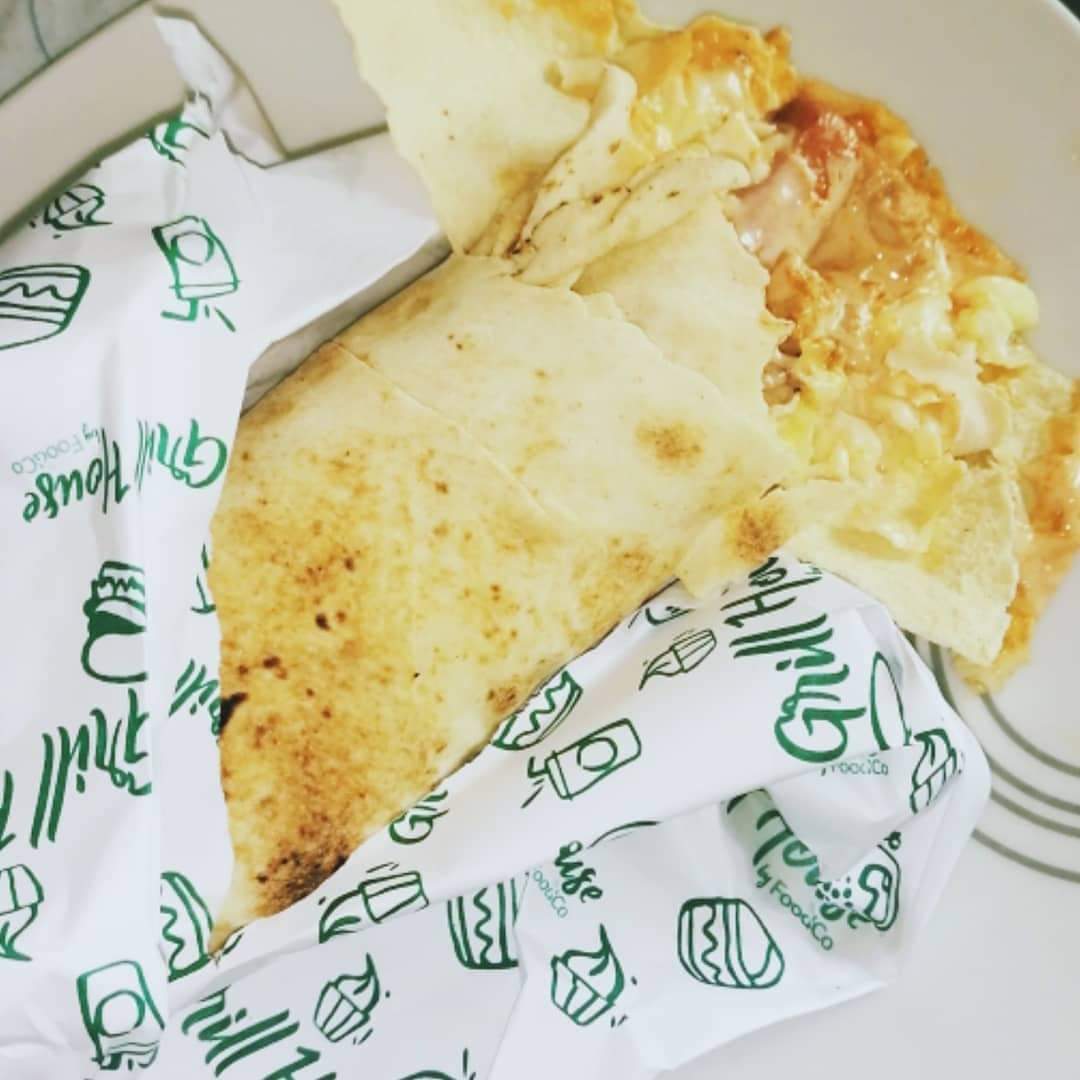 One hungry bite I had, satisfied my savoury gland. It had the right amount of everything. The slow grilling on low heat made it tender and juicy. 'Yes, this is the best shawarma spot in Ibadan,' I confirmed. Its taste is second to known—the best among the rest.