The Governor of Oyo State, Seyi Makinde made this announcement on his Twitter handle on Saturday night.
Isolation and contact tracing have commenced as there are currently 8 active cases in the state.
To control the spread of the virus, Makinde said "one of the measures we considered to prevent, contain and control the spread of COVID-19 in Oyo State is the compulsory use of face masks in public."
To achieve this policy, the state government is collaborating with experts who have already designed face masks to train tailors how to make them.
According to Makinde, "The Oyo State Government will produced an initial one million cloth face masks to kick start the mask in public places policy for Oyo State. 100 tailors will be commissioned by Monday, the 20th of April, 2020 to make 10,000 gave masks each."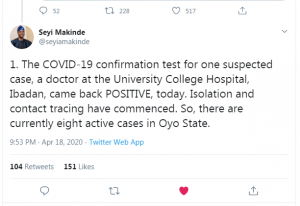 He appealed to people who believe they could have come in contact with Covid -19 case in Oyo State and people who returned to Nigeria from abroad within the last one month to register with the State Emergency Operation Center for the ongoing walk through testing at Adamasingba Stadium.
CMD of UCH Jesse Otegbayo who was earlier tested positive recovered days later.
Two confirmed Covid-19 patients were discharged today after receiving their second negative test results bringing the number of discharged cases to nine.
There are currently six active cases in Oyo State.