On Saturday, 18 April, Nigerians woke up to the sad news of Abba Kyari's death. Until his death, Abba Kyari (OON) served as Chief Of Staff to President Buhari. He was perceived as the strongest man in the Buhari presidency, especially when in 2019, at the beginning of Buhari's second tenure, all communications with the President were channeled through his office. His position created a lot of controversies as he was held responsible for Buhari's actions and inactions. Kyari died in the evening of April, 17 2020 and was flown into Abuja in a private Jet. He died of the novel COVID- 19 disease.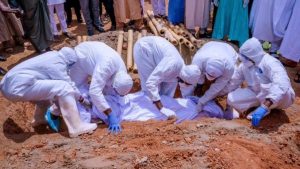 It's hard to ignore the implications of large gathering at his funeral at Gudu Cemetery, Abuja. This is at a time when the nation is combating the deadly disease and people are required to sit at home. This is barely before NollyWood actress, Funke Akindele and husband JJC would complete their 14- day community service. Funke Akindele was arrested along side her husband by the Lagos State Government over hosting a party.
The claim was that they broke the Lagos State Infectious Disease 2020 regulation under the Public Health Law. The couple was fined and landed a 14- day community service sentence. Following Kyari death and Funeral, pictures and videos showed over a hundred people in attendance WITHIN CLOSE RANGE.
These are the same people who asked us to sit at home. Why then did they not observe the social distancing rule? The violation of this rule has led more than 18 Nigerians to their early graves. Nigerians killed by security authorities enforcing the lockdown order!
Nigerians have responded negatively to this violation. The rule of a country should apply to both the ruler and the ruled. The violation no doubt has placed the lives of other Nigerians in danger as the number of confirmed COVID- 19 cases increase daily.
As at April, 19 Nigeria has recorded a total number 542 confirmed cases and 19 deaths.
Related:" We shall take you to court" President Yoweri Museveni of Uganda threatens citizens"