The European Union has donated €50 million to Nigeria to help fight against Corona Virus.
This was disclosed on Tuesday by President Buhari's personal adviser on New Media, Bashir Ahmad on tweeter.
Mr. Bashir Ahmad said the European Union €50 million donation to Nigeria is the largest support the Union has so far given to an country outside Europe.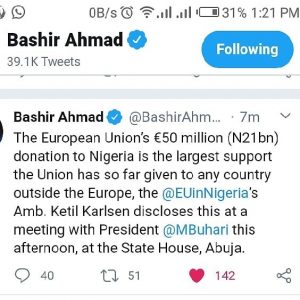 President Muhammadu Buhari thanked the European Union for donating the sum of €50 million which is approximately ₦21 Billion to support Nigeria's efforts at curbing the deadly disease.
Receiving the EU delegates led by ambassador Ketil Karlsen to the country, President Buhari said the donation would go a long way in supporting Nigeria's effort at controlling and containing the virus to prevent community spread as well as revitalize the national health care center.
Related Article: COVID 19, Afe donates ₦100m, Olanipekun ₦10m to Ekiti
Read Also: Oyo State Secretariat reopens as Governor relaxes curfew