If you hated eating cabbage before coming across this recipe, you are sure to change your mind, and even kick yourself for missing out on the goodness of cabbage for so long. Let me whet your appetite! Fried cabbage is a super delicious cuisine when it is prepared spicy with paprika and shredded chicken. It is easy to prepare with just few ingredients.
I only knew how to eat cabbage as a salad, but when I was visiting my mother in-law few months back, she prepared it on a weekend. At first, I was reluctant, but as soon as I had my first taste, there was no turning back. I ate my first portion and asked for more. It was so delicious a meal. So, these days, when the only foods I am allowed to eat are vegetables, fried cabbage has been my lifesaver especially since I can't eat cream. And you know what? It is very tasty when prepared with bacon, onions, tuna and corned beef.
There are different methods or ways to prepare fried cabbage, but the only method that really suits me so well is when it is garnished with shredded chicken, garlic and, tomatoes and some paprika to make it spicy. Yummy!
What really is fried cabbage?
Fried cabbage is a cuisine traditionally associated with the Irish people, which is made by pan-frying cabbage with onions and spices and served with corn beef which was later substituted with Bacon. A common accompaniment to the dish is white sauce.
Recipes for fried cabbage 5 servings
You should try my recipe. You will love it.
How to prepare fried cabbage
Step 1
Cook your chicken
The first process to preparing this recipe of fried cabbage is to prepare your chicken. Wash chicken, add spices and cook chicken in a pot until tender. Remove from the broth. (Do not pour the broth out.) Next, shred the chicken into small pieces when cool. Fry over low heat with little oil in a pan for a few minutes. Keep aside in a small plate.
Step 2
Heat your vegetable oil
Add your vegetable oil into a large pan and heat for few seconds. Some prefer to use butter or olive oil. Whichever you decide to use, as long as it is healthy, you are good to go.
Step 3
Add your chopped ingredients
Now, add your diced onion. I usually skip this part of this step when preparing fried cabbage because I don't eat onions. I just add the pepper, tomatoes and garlic after heating the oil/butter. If you are an onion lover, add the onion as your next ingredients after heating the oil. If you aren't like me, proceed by adding the pepper, tomatoes and garlic. Stir your onion, garlic and paprika for about 3 minutes with the aid of a wooden spoon before adding the tomatoes.
Step 4
Add the shredded ingredients
After frying the first set of your ingredients (onion, pepper, garlic, and tomatoes) add the shredded cabbage and fry for 5 minutes or less over medium heat. Then, add the shredded chicken, salt and seasoning and mixed together until the cabbage is cooked. I usually add a little quantity of the broth from the chicken to taste. Sprinkle your parsley leaves on it immediately you switch off the stove.
That's it. Your fried cabbage is ready. Serve warm. You can eat it like that or eat with a French fries.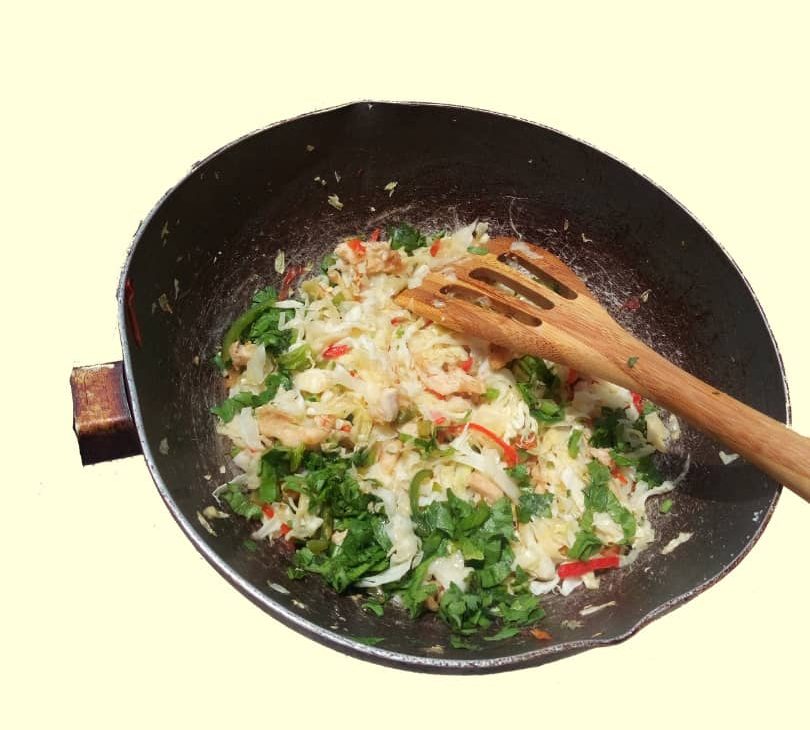 Tips for making delicious fried cabbage
Use only healthy oil. Ensure the oil you use has low cholesterol.
Fry with little oil.
Stir with a wooden spatula as it keeps food from burning.
Use the white cabbage instead of the green. It looks very appealing to the eyes.
Divide your bell pepper into two. Chop one half nicely and the other half cut into thin slices as it gives the cabbage some face lift. You know, a nicely chopped pepper comes in handy for this rich cuisine.
Don't over cook your cabbage. Once you noticed it is tender, turn off the heat.
Prepare only what you can finish for a day. Don't eat stale cabbage.
You can use bacon instead of chicken. If you are looking for other recipes, you can try this cabbage and bacon recipe.
Wash your parsley leaf with vinegar.
Nutrition Benefits of Cabbage
Cabbage is a low calorie vegetable Packed With Nutrients. According to Goodhousekeeping.com, 1 cup cabbage, chopped has:
22 calories
0g fat
0mg cholesterol
16mg sodium (0% DV)
151 mg potassium (4% DV)
5g carbohydrates
2.2g fiber
1g protein
1% DV vitamin A
54% DV vitamin C
2% DV iron
2% DV magnesium
3% DV calcium
5% DV vitamin B6
Eating fried cabbage is very healthy. It may help lower the risk of certain diseases, improve digestion, and combat inflammation. Also, cabbage may reduce blood pressure due to its potassium content. It contains good source of soluble fiber and plant sterols. These substances have been shown to reduce LDL cholesterol. In addition, it is an excellent source of vitamin K1, with 85% of the RDI in 1 cup (89 grams). Vitamin K is important for blood clotting.
You Might Also Like: