If your hair is infected with head lice and you want to know how to get rid of it fast and permanently, then, this topic is for you.
Also, if you want to know if Cacatin hair cream kills lice, read on as I reveal the fastest and permanent way to kill head lice in Nigeria.
The topic of 'how to get rid of head lice' was never planned. It was not a topic I thought I would be writing about when I first started blogging. For those of you who have been advent readers of my post, you will know that for some time my focus has been on cryptocurrencies, especially Pi. Beauty talk has not been my priority for some time now.
However, something happened to me last week. Something happened that completely influenced the focus of my next article: this article. It was embarrassing, to start with; in fact, I was afraid to seek help from friends. I was so bothered one day at work that I had to ask some of my students. I asked a few of them how to get rid of head lice, and they came up with different treatments: menthol and Camfor, onions, garlic, ginger mixture, kerosene, insecticide, etc… One even suggested that I cut my hair short due to how full my hair is. Her reason was that it would be impossible to fight them in a hair with such a volume.
It gave me concern; I get thinking until I asked another student that told me about a remedy. Dear readers, this simple cream you can get in every pharmacy got rid of head lice. I am not about to spill the beans yet, hold on.
I want to clear the misconceptions about head lice. You see, many people, including my hair stylist are not well informed. These people think that one is infested by head lice because one is dirty or because one does not take care of one's hair properly. This is a sham.
So, what are head lice?
Before learning how to get rid of head lice or how to treat head lice it is important that you learn about head lice.
Head lice are small, wingless insects that live and feed on the human scalp. They do not carry or transmit diseases but suck blood on the human scalp. They depend on the warmth of the head. Head lice crawl from one head to another through direct contact.
How do people contact head lice?
As I mentioned above, head lice crawl from one head to another. People get infected from direct head-to-head contact with another person who has head lice. This can happen when people play, cuddle, work together or sleep on the same bed with the infected person.
People can also catch head lice by sharing personal items with the infected person, such as combs, scarves, hoods and hats. In my case, I caught head lice by using an unsterilized comb from a random salon in Ibadan.
I have never patronized this salon in the past; that was my first time. I really wanted to make a back twist with my natural hair and entered this particular salon. I didn't go with my combs because I was nursing my sick sister at the hospital and decided to go make it. My mistake: I had forgotten my salon bag at home and could not go back. So, I entered this salon to style my hair and was rewarded with head lice. How distasteful.
Now, the head lice or lice nits (eggs) from the combs didn't start disturbing me immediately. Usually, it takes about three to four weeks. One of the first signs of head lice infestation is itchiness. Your head, neck and ears itch as a reaction to the bite. You don't want to experience that feeling.
If you suspect that you or someone else might have been exposed to head lice, you need to have someone inspect your head or that person's head closely.
One female head louse lay about 3 to 8 eggs per day. The eggs are firmly attached to the hair fibre and rely on the warmth from the head to hatch.
You just need one head louse or the nits to get infected. Within days of infestation, you will never feel the same again.
How to find head lice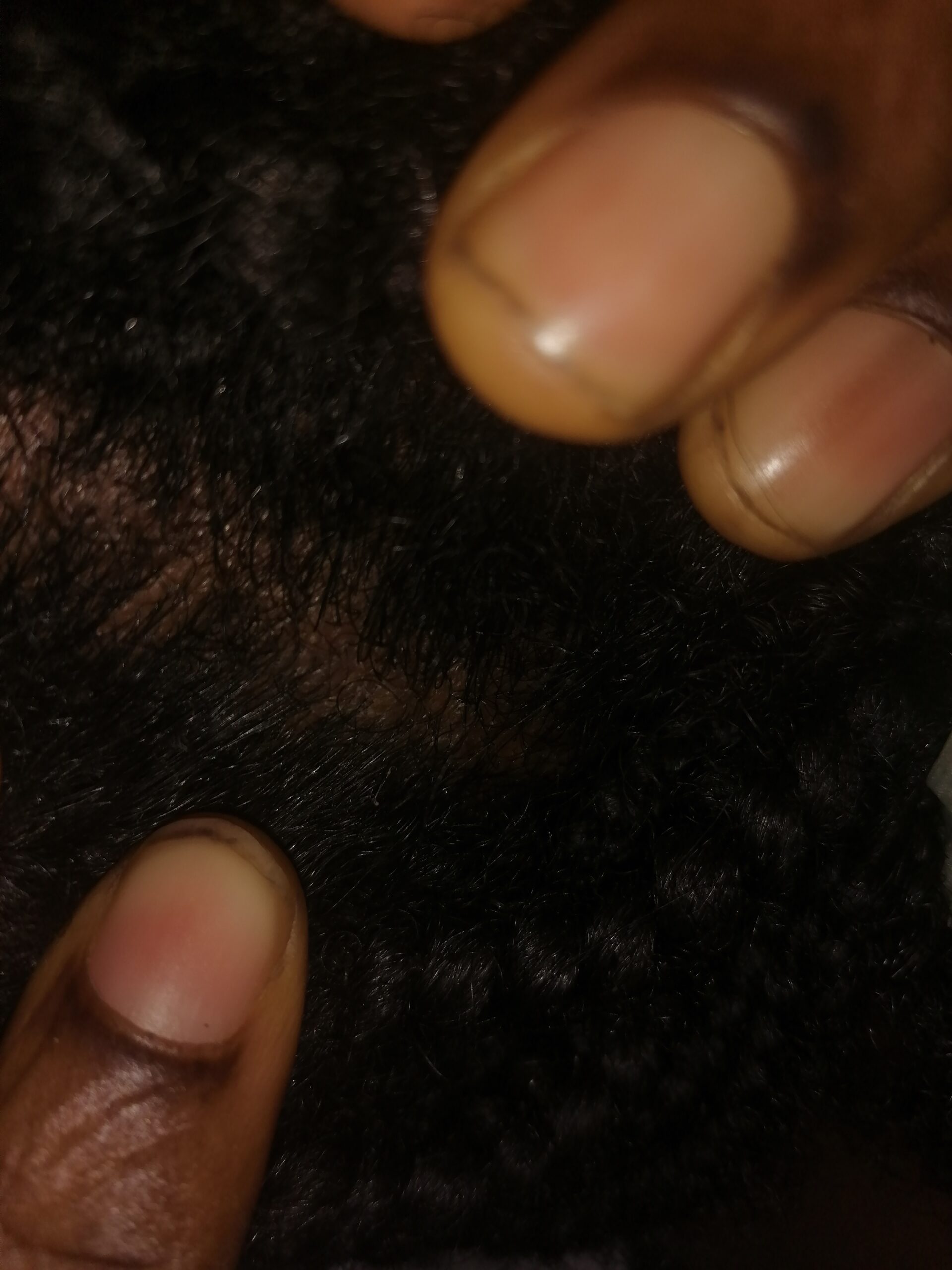 If you suspect that you are infected, divide your hair into sections. Ask someone with good eyesight to check for nits.
This was how I knew that my daughter's hair was also infected. Nits are the size of a pinhead; they are oval. These nits cannot be brushed off or combed out when the hair is dry, so you need to get them out with a conditioner, olive oil or shampoo.
In my case, I asked someone to use a magnifying glass to check for lice and nits. She found the lice running for cover and the nit firmly attached to my hair fibres within 1.5 cm of the scalp. Check out the photo above to see how the nits were attached to my hair.
I noticed that I was infected when I felt something crawling in my hair. I pinned it down and brought it out. I didn't know what it was at the time, so I killed it. Two days later, I felt it again and pinned it. I asked my colleagues, and when I was told that it was indeed a louse, I was distraught. How was it possible that I got infected with something like this?
The easiest and most effective way to find head lice is to use the conditioner and comb treatment. Wash hair with a conditioner produced to fight dandruff. It usually has a high sulfur and menthol content and is effective as it makes the lice run for their lives or die from the heat.
Thoroughly comb sections of the hair with a fine-tooth comb or nit comb such as this.
Wipe the conditioner from the comb onto a paper towel.
Repeat this combing for every section of the head at least 3 times. If dead lice or nits are found, treat the person's head.
You can also use olive oil and comb treatment. I used this method to discover whether my 18 months daughter was also infected.
How to Spot Head Lice on a Toddler's Head Using Olive Oil
Divide the hair into sections
Apply olive oil to the child's head and massage the hair thoroughly. The child might not be comfortable with the hair massage, but you have to do it.
Gradually divide the hair with a tail comb and comb it bit by bit.
Wipe hair on a paper towel to see if there are nits.
Now that we have seen how to find head lice or the nits on the head, let's learn how to get rid of head lice fast.
How to get rid of head lice completely
I am going to share with you the method I used to get rid of head lice precisely three days after I treated them.
Day 1 of how to get rid of head lice
First, I purchased an effective sulfur shampoo and cream. This particular cream is called CACATIN. I know you are wondering, 'does Cacatin hair cream kill lice', well, you are about to be educated.
You can find Cacatin hair cream in any Nigerian store or supermarket.
Then, I went to my hair stylist and had a thorough wash. While washing, I noticed that a lot of lice were trying to crawl out. They couldn't stand the heat of the shampoo.
After washing, my stylist divided my hair into small sections and comb each section with a fine-tooth comb. I wanted to get a nit comb from Jumia, but the one I saw was going to take weeks to reach Nigeria because it was coming from the USA and it was also expensive. I couldn't wait that long, nor could I afford it.
The eggs and the dead lice were falling out while my stylist was combing; I was shocked to see how many lice were in my hair.
Next, she applied a generous amount of CACATIN hair cream to my hair and then I entered the dryer. The dryer was necessary to kill the nits.
Day 2 of how to get rid of head lice
Two days later, because I was still feeling discomfort due to constant itchiness, I had to buy eucalyptus oil. It's a kind of essential oil made from an eucalyptus tree. During my research, I read that it was also a good lice fighter. So, I poured a small drop into my bucket of warm water and washed my hair with it. I should warn you, the smell isn't pleasant, but it has a fast effect. After washing my hair for the second time, I added a generous amount of CACATIN hair cream again.
Day 3 of how to get rid of head lice
On the fourth day, I went to the salon to straighten my hair with a hot comb. This was my last and final treatment.
On Camfor and menthol in coconut oil or olive oil, this method may work, but the result is not effective as the method I just shared with you. In fact, a student told me that when she used Camfor and menthol in coconut oil, she still got infested with head lice after some days.
So, rather than use the Camfor and menthol method, why don't you use Cacatin, eucalyptus oil and heat to get rid of your head lice permanently?
How to Treat Head Lice: The Bottom Line
Treating head lice would cost you money, but you can get them off your head forever using these simple tricks I just shared with you.
After treatment, you may still feel this unbearable itchiness for some weeks. However, there's no need to repeat the treatment. This itchiness is just the after-effect of the treatment.