The Imo State Governor Hope Uzodinma  on Monday 27 April, says his administration is saving N2 billion monthly. He disclosed in a broadcast as he marks  100 days in office.
The governor said his administration have centered on "arresting the rot in the system."  Governor Uzodinma was swore in by the Supreme Court ruling on 15 January, 2020 as the rightful elected governor of Imo State.
According to him, his administration met an endemic corrupt system which have caused untold hardship to the people of Imo, hence the need to arrest the rot in the system.
Among the corrupt practice the administration found was Salary mismanagement in the state. Some glaring mismatch discovered amply proves that the state salary regime is fraught with corrupt manipulations.
"I found it curious that a state with 56,000 workers (both state and LGA) only captured 17, 000 persons in the income tax otherwise known as Pay as you Earn(PAYE)," he said.
See Related Story: Uzodinma rejects Ihedioha's N800 million renovation of govt House
Uzodinma said, "the nominal roll of Pensioners have stood at 30,000 for ten years now."
This will mean that there has been no retirements in the last 10 years and no Pensioner has died either.The absence of a BVN security in payment of salaries is yet another source of fraud.
"Quite instructively most of the payroll fraud were committed through multiple entries of the same BVN for different names on the payroll. It was incredible to discover that some people earned salaries as civil servants and at the same time earned pension as Pensioners."
The governor announced that he has recorded salutary success in the fight to cleanse the public service of pervasive corruption. Thus the state is able to save N2 b every month.
"I can tell you today that by insisting on the enforcement of BVN records, which uniquely ties each worker to a distinct bank account, I have been able to save about N2 Billion monthly from the wage bill of Imo Workers and Pensioners." he said.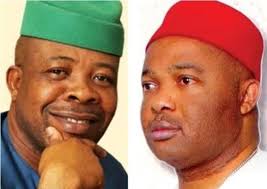 This was made successful by the new data centre established by the government. This data centre is in the process of automating all Salary Payments by the Government as well as all procurements.
Henceforth, through the centre, workers can download their monthly pay slips as evidence of gainful employment which will also enable them access to social services across the Country.
According to Governor Uzodinma, "this huge sum will be ploughed back to infrastructural development."
This means that the Government will be able to deliver more roads, more housing and better hospitals and schools in the coming months and years.
He appealed to the good people of Imo to join his administration in the journey of blocking the wicked people from stealing from the commonwealth through payroll fraud.