If you are a PI miner in Nigeria and you are wondering how to verify your Nigerian phone number, it's possible. Nigerians can now verify their phone numbers and Facebook accounts on Pi mining app. The Pi coin as you know has caught the attention of cryptocurrency investors even before the coin becomes available for trading. Like to know how much Pi is worth currently? Therefore, it is important that every miner verifies his phone number if he wants to claim the coins he mined.
If your country is not listed on the Pi's phone number verification page and you would like to verify your phone number, you can follow the verification steps below. Nigerians can now verify their phone number on Pi mining app without having to contact a friend or family member abroad.
What is PI?
PI is the cryptocurrency that runs on the Pi network, and as with other cryptocurrencies, it was designed to undergo regular "halving" to protect its scarcity. [Halving is when the number of coins a miner receives for processing new transactions is reduced by half]. It was launched on March 14th, 2019, a project developed by two Stanford PhDs and one Stanford MBA whom helped built Stanford block chain community. This group of Stanford graduates saw the difficulties in accessing and using other cryptocurrencies like bitcoin and then decided on creating a Cryptocurrency that can be accessed by everyday people just by a simple click on their mobile phones. Pi puts the power of cryptocurrency into the palm of your hand.
Once you sign up, you can mine Pi by helping to secure the currency and by growing Pi's trusted network. To start earning Pi, check in every 24 hours and hit the lightning button to start mining. The interesting thing about mining Pi is that you don't need to leave the app open to mine. Pi does not affect your phone's performance, drain your battery, or use your network data. Once you hit the lightning button, you can even close the app and you will continue to mine Pi.
If you have been mining Pi for some time now, there is good news. Pi has started to gain momentum. It is important that everyone verifies his Pi account to claim his coin. PI's mining rate halved from 1.6 π an hour when it reached 100,000 users, halved again to 0.4 π an hour when it reached 1 million and halved again to 0.2 π when it reached 10 million. It will continue to halve, reaching zero at 1 billion users. And we are pretty certain that it will reach its third phase very soon.
PI's Account Verification
There are three Verification processes for all PI users either in Nigeria or globally. However, not all the countries can verify their phone numbers because there are only a preferred selection of countries that can verify their numbers.
This article will help Nigerians and those whose countries are not listed on the Pi's verification page verify their phone numbers.
How to verify your phone number on Pi Network in Nigeria.
Before you verify your phone number, is PI a waste of time? Read what experts are saying.
To verify your phone number on Pi mining app has become pretty simple for Nigerians who want to claim the coins they mined. Follow the steps below to get started.
Step1
Open the Pi Network app
Step 2
Click on the Menu button on the top left of the Homepage.
Step 3
Now scroll down and click on Profile.
Step 4
Click on the Verify Button by the right side of the Phone Number option.
Step 5
Click on the Manual Instructions.
(You will be required to Text a 4 digit code to a US phone number the system provided.)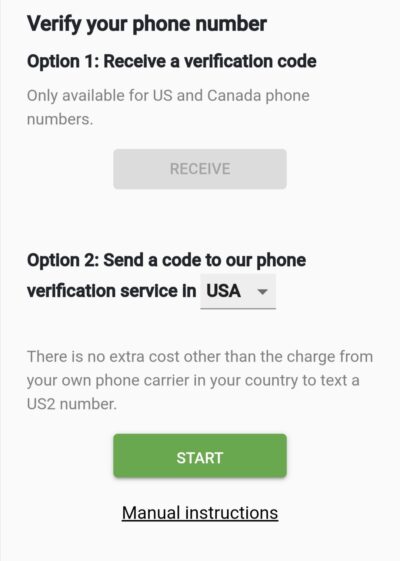 Step 6
Copy the number and memorize the four digit code.
Step 7
Enter the number.
That's it, your phone number has been verified. Check to confirm. You will see a green check icon beside the phone number verification button.✔️
Once you have successfully sent the 4 Digit Pin to the required phone number, your Pi Network Phone Number will be verified immediately.
How to verify your Facebook account on the Pi Network
After signing up on Pi, you can verify your Facebook account to claim your coins.
Step 1
On the Homepage of the Pi Network App, click on the Menu button on the top left of the Homepage.
Step 2
Now scroll down and click on Profile.
Step 3
Click on the Verify button beside Facebook verification option.
Once you click on the Verify button, you will be redirected to your Facebook app to give Pi Network permission to use your basic personal information.

Step 4
Click on the Accept button to grant permission and immediately you should see your Facebook Pi Verification will be checked green. ✔️
How to verify your Password on the Pi Network.
Verification of password on the Pi network is easy. Once you sign up on Pi and enter a unique password only you can remember, your Pi password will be automatically verified and your password verification will be checked green. ✔️.
Now that you have verified your phone number, Facebook account and password, you can continue mining. Since Pi's mining rate has been reduced by halving, users can increase their mining rate by connecting with other active miners. And individuals who wish to join the Pi Network can only join if they have a referral code from an active user.
If you will like to join the Pi Network, follow this link to sign up and kindly enter 'Goodnesspius' as the invitation code.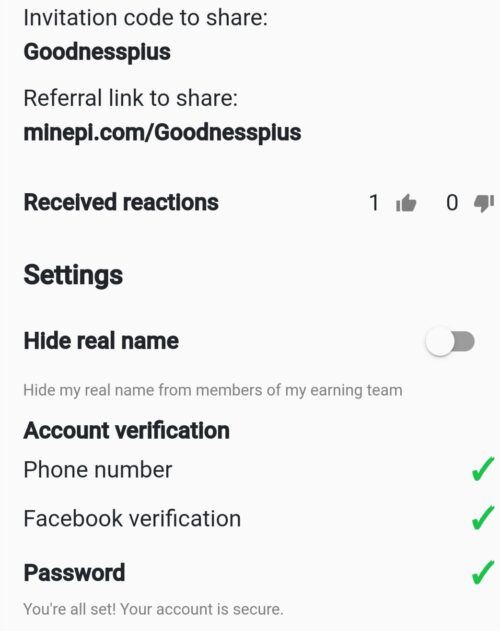 If you found this article really useful, make sure you share and click on the notification button to be one of the first people to get notified when a new post is published.
Trending on this Website