Face masks is now compulsory in Lagos. The Governor of Lagos State Babajide Sanwo Olu has issued the directive tagged #MaskUpLagos. This requires Lagosians to wear Face Masks in public places even as the lockdown continues.
He made this announcement via his official Tweeter handle on Sunday, 26 April, 2020.
"Face masks help to protest us from droplets and secretions coughing, sneezing etc as not everyone that is infected will show symptoms," he said.
The state government is currently producing about 3 million face masks for distribution to the vulnerable. The cloth face masks is made to specifications for non medical workers that would be released by the Lagos State Ministry of Health. This will also include other guidelines that will protect residents from Covid-I9.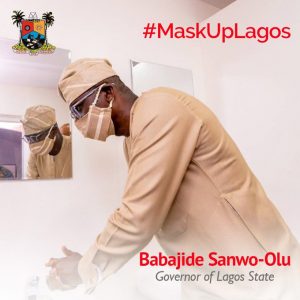 Lagos State is currently the highest state in Nigeria affected by Coronavirus with about 19 deaths recorded.
Sanwo Olu said the increase of people infected showed three things, "One, that we are now firmly in the community transmission phase; Two, that our strategy of ramping up testing especially within local communities is working, and, Three, that this is not the time for us to relax or to slow down in the efforts."
He appealed to Lagosians to abide by the guidelines stipulated by the government which are effective in slowing down the spread of the disease. 'Face masks, combined with frequent hand washing, being conscious about not touching our face as well as social distancing are effective in slowing the spread,' he said.
It is compulsory that citizens of Lagos must wear face masks in public places to curtail the spread of the disease which source cannot be traced.